Meet the Team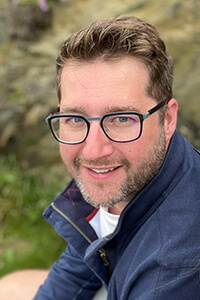 Alex
The Founder
In a previous life I used to be an engineer but that all changed in 2008 with the financial crash and recession. I had a 5-month-old daughter to think about and needed to come up with a Plan B pretty quickly. I always had an interest in fitness so decided to take the plunge and make it my full-time career.
BYB started off one dark, rainy, November night in a muddy field with my first two clients (thank you Jane and Karen by the way).
I quickly realised the UK isn't made for all-year-round outdoor fitness, so I moved indoors to my first "studio". I started out working with anyone and everyone but found the clients I really enjoyed working with were ladies over 40. There were no exercise egos, they had tried the faddy stuff and were ready for something which could offer sustainable, long term results.
We've grown from one studio to three and we're now looking to open more centres across the UK to reach more women. I think the fitness industry largely fails 40+ ladies by sticking with a one-style-fits-all approach and, judging by the number of new clients we are signing up, a lot of you agree.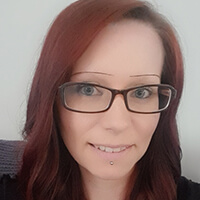 Sarah
Membership Consultant
My personal fitness journey has involved strengthening my post-pregnancy body after having my three children. I benefit from the positive impact exercise has on my mental health and wellbeing. I have recently seen first hand how exercise has transformed the health of my parents after my father had to under-go open heart surgery and his rehab journey. Age is no barrier to striving to improve ourselves!
Career wise I have worked in customer care roles all my life; within the print and advertising industry. I have recently joined Boost Your Body and I am enjoying chatting with all our prospective clients during the sign-up process.
Outside of work I have a keen interest in motorsport and rock music. I am also an avid product tester! As a family we enjoy lots of woodland walks and we take part in a seasonal stock car replica 'Scalextric style' racing called Slotstox.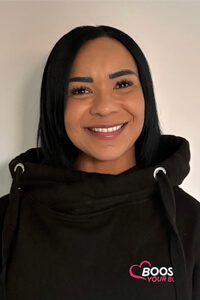 Natalie
Studio Manager

- West Bridgford

I found my love for training six years ago and decided I wanted to help other women find that same passion. I trained and qualified as a fitness instructor, then personal training, followed by pre & post-natal coaching three years ago.

I'm a mum of four which is the most empowering thing my body has ever done, and I love helping and motivating women by showing them how strong they can be. I believe no goal is too small or too big to aim for.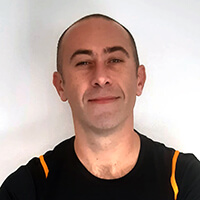 Ali
Trainer

- West Bridgford

I have always been into sport and fitness, having played professional basketball for a few years and a fitness instructor on and off for over 15 years.

In 2017 I made the decision to become a personal trainer, and thanks to BYB, I've grown to love instructing female clients and being part of this amazing community. I love guiding my clients through their own health and fitness journey and seeing how they improve gives me huge satisfaction. I'm also a big fan of bodyweight/calisthenics training and core exercises and I know that no goal is unachievable with the right approach and guidance.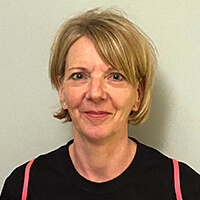 Anita
Trainer

- West Bridgford

In September 2015 I attended my first training session at Boost Your Body as a new member, having never lifted weights before or done any type of resistance training. At the time of writing this I have since attended 523 classes!

Somewhere along the way I undertook a personal training course and qualified in 2018. I joined the team at West Bridgford which I juggle with a much less interesting "day" job which keeps me busy the rest of the week. I enjoy my role as both trainer and trainee in equal measure and outside of the gym I'm a keen tennis player as well as fitting in a bit of running and yoga.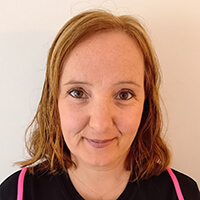 Tanya
Trainer

- West Bridgford

I started my personal training journey only a few years ago and I'm loving every minute of it. In recent years I realised that I no longer wanted an office job and would like to work in the fitness - in particular taking small group classes and helping ladies of a similar age to me get stronger, fitter and more confident. I want to help ladies push themselves to be their best versions and I believe anyone can do it. My favourite exercise is a clean and press as it works the whole body and really gets the heart rate up.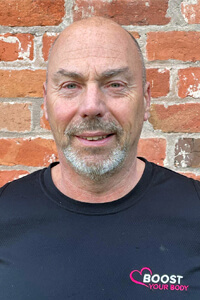 Mike
Trainer

- West Bridgford

Hi, I'm Mike and in 2016 I decided to give myself the gift of early retirement and follow my passion in health and fitness. Having already enjoyed a rewarding career in rivers and environmental management and running my own construction business I started on a new journey in Personal Training with the intention of inspiring others to live healthier happier and fitter lives whilst remaining inspired myself. I have well over 30 years of training experience from running through to strength and conditioning, body composition, nutrition, and motivational coaching. I currently enjoy challenging myself by practicing and teaching Yoga complementing the strength and conditioning work I do. I believe we can all choose to be healthier and fitter no matter what age. All it takes is a commitment and willingness to do the necessary work and I am here ready to help you reach your goals and let the magic happen.
Joss
Studio Manager

- Beeston

In a former life I worked in banking but then studied to become a personal trainer to find answers to some of my own health issues.

I enjoy running with 5k, 10k and half marathons under my belt, as well as competing in kettlebell sport which is a form of endurance weightlifting. I also have additional qualifications in Kettlebells, Boxercise, TRX suspension, 3rd Age Women, Menostrength and Gravity Yoga. My current fitness focus is helping to ensure menopausal women are living their best life and are all set for aging with style!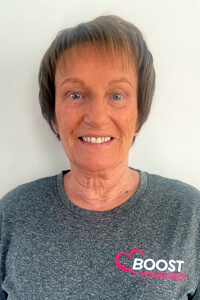 Jane
Trainer

- Beeston

My fitness journey started properly after the birth of first child when I joined keep fit classes, aerobics and step. Later I got into dance including styles street, tap and salsa, and have gone on to perform in several shows and as a group.

I've worked in women-only gyms for the last 11 years teaching body conditioning, aerobics and step. It's easy to keep motivated in my job as you're helping people achieve their goals and have fun at the same time!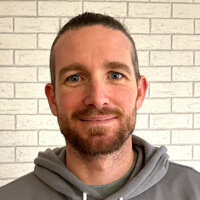 Riki
Trainer

- Beeston

As a professional athlete for the last 18 years I have an abiding love for and interest in health and fitness. I believe in a holistic approach to fitness and I love to help others to achieve their personal goals.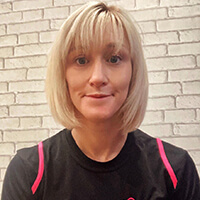 Jill
Studio Manager

- Sheffield

I'm a fully qualified Level 3 personal trainer with several years' experience and a proven track record for delivering my clients' goals. I like to keep up to date with the latest training techniques and systems, as it gives me the scope needed to keep clients on track.

Ultimately, I have a genuine interest in my clients' well-being. Whether the goal is to lose weight, tone up or improve general fitness and muscular strength – I'm here to help!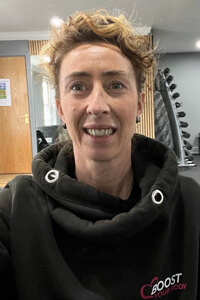 Hayley
Trainer

- Sheffield

I'm Hayley and I'm happy to help you every step of the way! I love what health and fitness brings to our lives and in so many different ways.

I love learning and working with people to feel better. I will help guide you and encourage you throughout your workouts!

I have worked in health and fitness for some years now and I'm still enjoying it, learning, meeting amazing people and helping you achieve your health and fitness goals.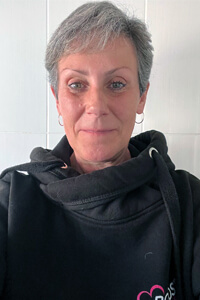 Kay
Trainer

- Sheffield

I've been in the fitness industry for nearly twenty five years. No matter what your goal is I'm here to help you improve on your strength, overall physical fitness, fuel your body right and any other problems you may have. Being 'a woman of a certain age' - fifty five to be precise - I can relate to your needs.